Certify The Web for Windows
Description
Certify The Web is a SSL Manager that can manage free https certificates for IIS, Windows and other services.
It's a Professional Certificate Management for Windows, powered by Let's Encrypt.
You can easily install and auto-renew free SSL/TLS certificates from letsencrypt.org and other ACME Certificate Authorities for your IIS/Windows servers. Setting up https has never been easier.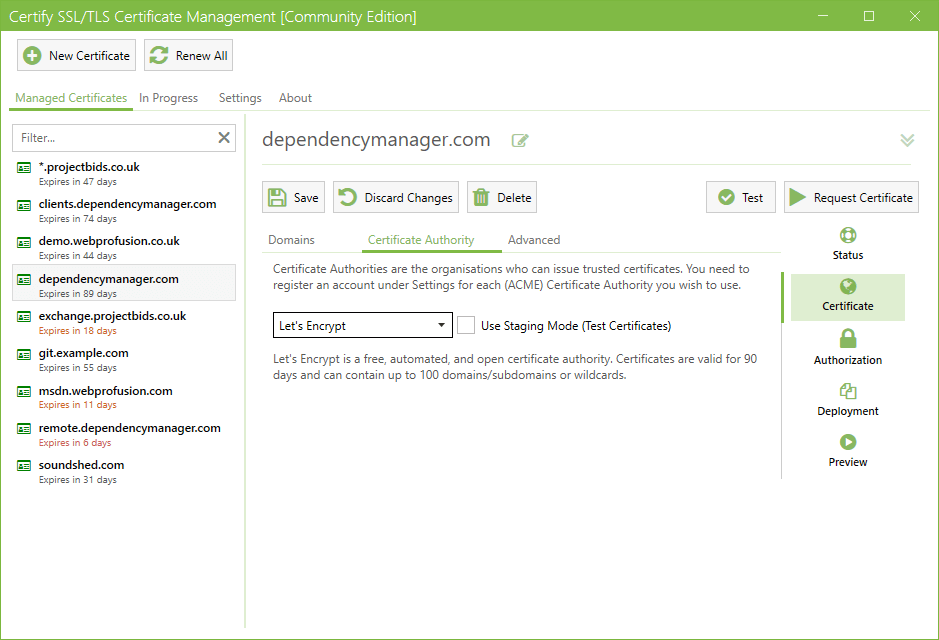 Features
When managing your SSL/TLS certificates for websites, email servers or any other services, you need a simple and reliable automation system with a visual overview that's easy to use and support.
As your requirements grow more complex you need a powerful solution that scales, with dedicated support when you need it.
Simply install the app on your server, setup the domains you want to manage certificates for and let the Certify The Web software take care of renewing and (optionally) deploying certificates.
Easy setup – just install on a supported version of Windows Server.
Simple certificate requests, authorization, deployment & auto-renewal.
Ideal for Windows Servers running IIS, but can be used with other services.
Manage one certificate or several thousand.
Detailed preview of the certificate request process and planned automated deployment steps.
Create certificates for single domains, multiple domain (SAN) certificates or wildcard certificates.
System requirements
In order to run the application correctly, it is necessary to meet the minimum requirements given in the table below.
| | |
| --- | --- |
| OS version | Windows 7 (or higher) |
| Framework | Net 4.6.2 (or higher) |
| RAM | N.D. |
| Disk space | 64 MB |
The table lists the minimum system requirements for running Certify The Web
It is still possible to install the app on devices not mentioned above, but we cannot guarantee its proper functioning.
We recommend backing up the device on which the app will be installed before performing any installation of third-party apps not from the official app Store.
Update
•Add automatic DB backup as part of daily maintenance, move all DB maintenance to daily task

•Handle possible disk IO exception during db maintenance (low disk space or IO errors etc).

•Powershell: don't use previously supplied windows credentials if no longer relevant to selected user type

•Add default 5 min timeout to powershell scripting and make ExecutionPolicy optional
Install
Download the .zip archive
Extract the .zip archive on a folder
Select the folder containing the extracted file
Open the file .exe as administrator
Press install button
Launch the software