Meshcentral for Windows – PC Desktop
Description
Connect to your home or office devices from anywhere in the world using MeshCentral, the open source, remote monitoring and management server.
Once installed, each enabled computer will show up in the "My Devices" section of the web site and will be able to perform remote desktop, remote terminal, file transfers and more. Get started by installing a MeshCentral server of your own
You can install your own server on Linux or Windows, it will run on anything from a large cloud instance to a Raspberry Pi.
This is still beta code. Your privacy matters: When installing your own MeshCentral server, no usage data or telemetry is collected.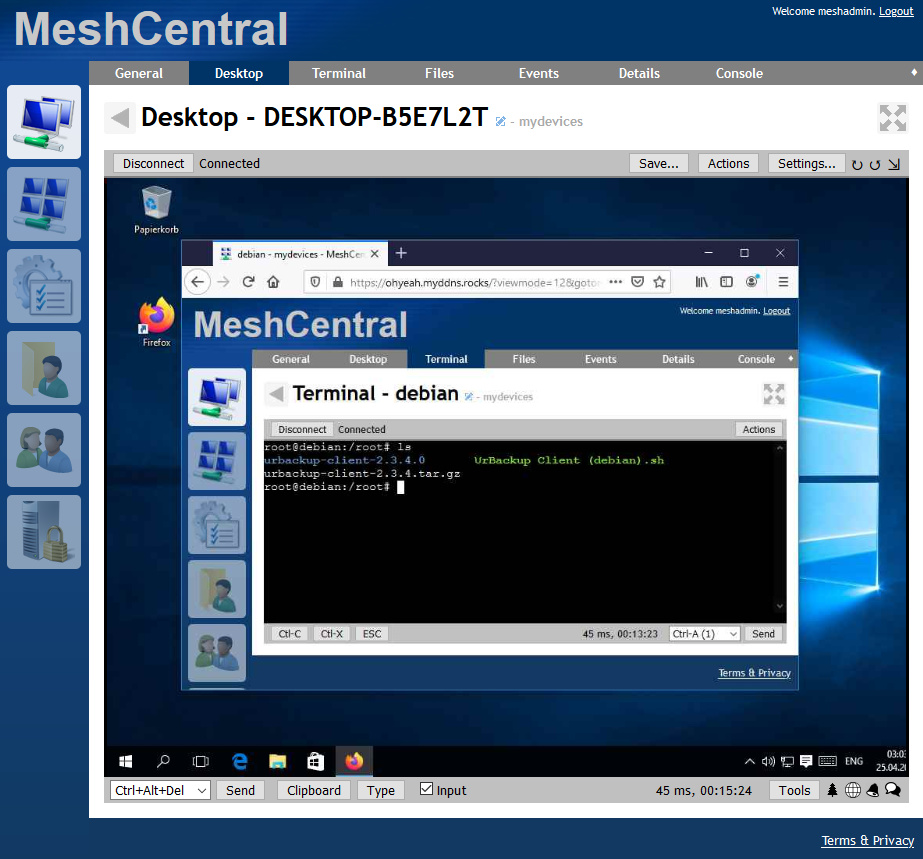 Features
MeshCentral is a full computer management web site. LWith MeshCentral, you can run your own web server to remotely manage and control computers on a local network or anywhere on the internet.
Once you get the server started, create device group and download and install an agent on each computer you want to manage.
A minute later, the new computer will show up on the web site and you can take control of it.
MeshCentral includes full web-based remote desktop, terminal and file management capability.
You can download Windows Installer – Win32 executable on the button link below (Apache 2.0 License).
System requirements
In order to run the application correctly, it is necessary to meet the minimum requirements given in the table below.
| | |
| --- | --- |
| OS version | Windows XP (or higher) |
| CPU | x86 (or x64) |
| RAM | N.D. |
| Disk space | 70 MB |
The table lists the minimum system requirements for running MeshCentral Windows
It is still possible to install the app on devices not mentioned above, but we cannot guarantee its proper functioning.
We recommend backing up the device on which the app will be installed before performing any installation of third-party apps not from the official app Store.
Update
•Beta 2 – Improved crypto, more stability, many new features

•Beta 1 – Mesh Agent support on Windows along with many fixes

•Alpha4 – Server files, file sharing and quotas, TLS within CIRA support, NPM installation

•Alpha3 – Added multi-tenancy support, configuration file, database schema upgrade, bug fixes

•Alpha2 – Added Intel AMT CIRA support, latest MeshCommander. Alpha1 – Initial version, early development
Install
Download the .zip archive
Extract the .zip archive on a folder
Select the folder containing the extracted file
Open the file .exe as administrator
Press install button
Launch the software