AppVN Store for Android
| | |
| --- | --- |
| Version | Latest |
| Developer | Appvn |
| Category | Store |
| OS | Android |
| Uploaded by | StrainDorf |
Description
Appvn is an alternative App store to Google Play with thousands of games and apps from where we can download loads of things unavailable in the official Android store.
It's a better place to download and update not available apps which you can not even find it in Play Store search results.
Discover new Android games and experience exciting adventures with Appvn now.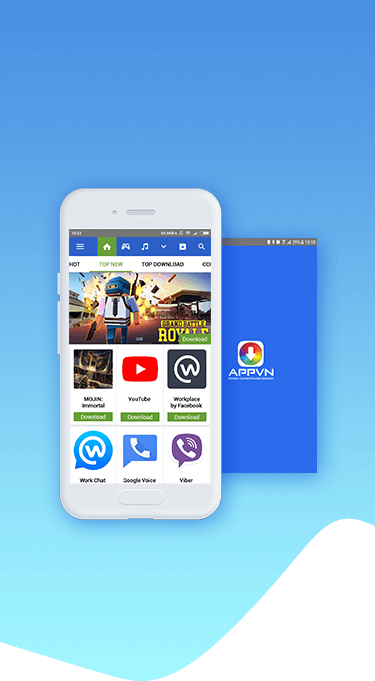 Features
All Apps in the Appvn App are safe for your Android.
They have to pass a signature verification check before they list in Appvn.
The games come on the app's list as they are launched and sometimes even before their official release date.
The app lets you enjoy real-time games and play with several friends and people from other countries.
You can also avail of the cloud saves, leaderboards, achievements, and a lot of other features.
Download applications safely
Find thousands of games and apps of all sorts.
Function to pause and resume downloads
Appealing design
Find updated and also old versions
Read opinions about the apps and find whatever information you may need
Thousands of games and apps base on your choice.
You can easily Pause and resume the apk download progress, that Restart button switches to be Pause when the download is in working.
You can download the last version of this app on the download link below.
System requirements
In order to run the application correctly, it is necessary to meet the minimum requirements given in the table below.
| | |
| --- | --- |
| OS version | Android 4.0.3 (or higher) |
| CPU | N.D. |
| RAM | 500 MB (1 GB recommended) |
| Disk space | 30 MB |
The table lists the minimum system requirements for running Appvn
It is still possible to install the app on devices not mentioned above, but we cannot guarantee its proper functioning.
We recommend backing up the device on which the app will be installed before performing any installation of third-party apps not from the official app Store.
Update
There will be frequent updates which you can grab from the link below.
The last version implements the following new features:
•New app icon

•Improved performance (on Android OS 5.0+ only)

•Redesigned GUI on the home page

•Fixed resume download feature

•Added new advanced option in settings menu

•Minor bug fix
This application is from a third-party developer, so an automatic update won't be available.
You will need to manually update the app by installing the new version from the APK file; the previous app will be replaced automatically.
All the updates have the latest fixes and optimizations, but their constantly changing nature means that little testing has been done on them and unknown bugs may appear.
Install
Download APK file on the link button
Open a File manager
Select the folder containing the downloaded file
Open the file .apk
Press install button
Launch the app