Dolhpin emulator for iOS
| | |
| --- | --- |
| Version | 2.2.2 |
| Developer | dolphin-emu |
| Category | Emulator |
| OS | iOS |
| Uploaded by | BlowFlies |
Description
DolphiniOS is an emulator that allows you to play your favourite GameCube and Wii games right from your iPhone.
It is based on the popular Dolphin emulator for iOS, but comes with improved features such as save stats and better resolutions (see also version compatible with Android, Windows and MacOS).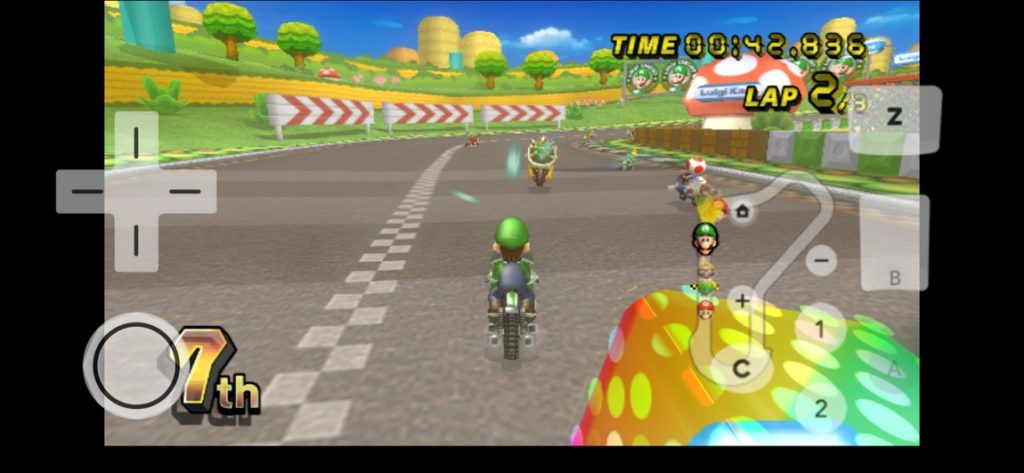 Features
This is one of the most popular emulators on iOS for GameCube and Wii games.
It supports features like high resolution, save states, graphics settings, motion control emulation, physical controllers and much more.
The best thing about this emulator is that it has great performance on all compatible iPhone and iPad models.
Dolphin has received a new version 2.2.0 update which brings support for non-jailbroken devices running iOS 13.4.1 and lower, thanks to a new exploit.
The update is now available to install via Cydia, for iOS jailbreak users, and AltStore, for non-jailbreak users.
System requirements
| | |
| --- | --- |
| OS version | iOS 13.4.1 (or lower) |
| Device | iPhone 8+ (or equivalent iPad) |
| RAM | 1 GB (2GB recommended) |
| Disk space | 50 MB |
The table lists the minimum system requirements for running Dolphin emulator iOS
Update
•Support for non-jailbroken devices running iOS 13.4.1 and lower has been added

•See above for installation instructions

•Fixed a bug where DolphiniOS update information taking too long to download would cause a crash

•Reduced the app size by around 75MB

•Fixed a bug where scroll behaviour was incorrect in certain pop-up notices

•Further improvements to overall system stability and other minor adjustments have been made to enhance the user experience

•Fixed bundle ID to be lowercase to preserve AltStore installation status and allow for refreshing the app upon expiration

•Added detection for missing dynamic-codesigning entitlement

•Fixed a bug where new installations would be incorrectly shown the CPUCore warning
Install
To know how to install an .ipa file on your iPhone or iPad please follow this guide.