PSX emulator for PC – PS1
Description
ePSXe for PC is a Play Station 1 emulator (PSX and PSOne). ePSXe provides very high compatibility (>99%), good speed, and accurate sound.
It is designed for desktop, smartphones and tablets, (for 1-4 players) including a fun 2 players option with split screen mode.
It includes virtual touchscreen pad support, hardware buttons mapping (Xperia Play, phones with keyboard or gamepad, external gamepads bluetooth or USB such as WiiMote, Sixaxis, Xbox 360, Moga, Ipega) and analog sticks.
ePSXe includes native support for CPU x86 and x64 (32 and 64 bit). Android, iOS and MacOS version is also aviable.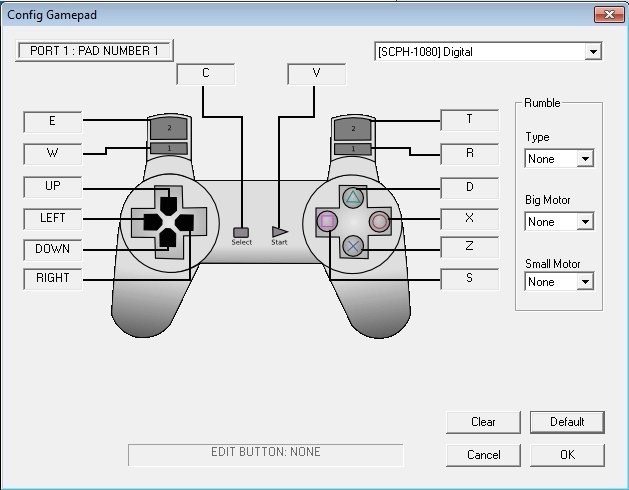 Features
ePSXe emulator supports HD enhanced graphics including 2x/4x software renderer and two OpenGL renderers, cheat codes as well as savestates and memcards compatibility with the PC version.
After you have downloaded all the required files, uncompress the file ePSXe101.zip into a folder of your choice with WinZip or any other extractor. This should create several subfolders which are required for ePSXe.
Now you can run the file ePSXe.exe and start to configure the emulator.
ePSXe has an included a internal sound plugin. It should work correctly in many games. If you have problems with the sound using it you can try Pete's sound plugin or Null's sound plugin.
ePSXe also has two internal cdrom plugins. The first is an ASPI cdrom plugin for use under win9x and the second is a cdrom plugin programmed using a windows nt native API recommended for win2k/winnt.
System requirements
In order to run the application correctly, it is necessary to meet the minimum requirements given in the table below.
| | |
| --- | --- |
| OS version | Windows 98 (or higher) |
| CPU | x86 / x64 |
| RAM | 256 MB (512 MB recommended) |
| Disk space | 30 MB |
The table lists the minimum system requirements for running PSX emulator PC
It is still possible to install the app on devices not mentioned above, but we cannot guarantee its proper functioning.
We recommend backing up the device on which the app will be installed before performing any installation of third-party apps not from the official app Store.
Update
•Updated the x86 recompiler to use the same recompiler than in the rest of versions (Android, Linux x64, Mac …). Now it should be easier to fix problems in all versions.

•Ported the local netplay from Android (Experimental). This version is compatible using local netplay with the rest of ePSXe versions from the version 2.0.5 (MacOSX, Linux x86, Linux x64 and Android – version 2.0.6). (Additional info the epsxe docs)

•Ported the GPUCORE threading mode from the Android version. The PC CPUs are faster than Android CPUs, so it will improve less FPS. (This option is better when the CPU is slower).

•Added new threading modes to the Pete OpenGL2 Core Plugin. It includes a basic 2-thread mode, and 2 extra modes adding soft/hardware effects. (It could improve some effects, for example the burning photo on the start of Castlevania)

•In the INPUTCORE plugin, swapped the vibration actuators when using the Xinput mode (to match to real PSX Left/Right). Besides when using a gamepad in digital mode, now you can use the left stick as the dpad.

•Fixed the >2GB PBP roms support. Now it should be able to run the PSX2PSP isos bigger than 2GB as Final Fantasy VIII PSP pack.

•Fixed the cheat codes support when running on the interpreter mode.

•Added a new option in the cheat codes window to download cheat codes from the ePSXe version (Thanks to psxdatacenter.com)

•Fixes to the core which made more games playable or better working. (WING COMMANDER IV, MONKEY HERO)
Install
Download the .zip archive
Extract the .zip archive on a folder
Select the folder containing the extracted file
Open the file .exe as administrator
Press install button
Launch the software